Apparel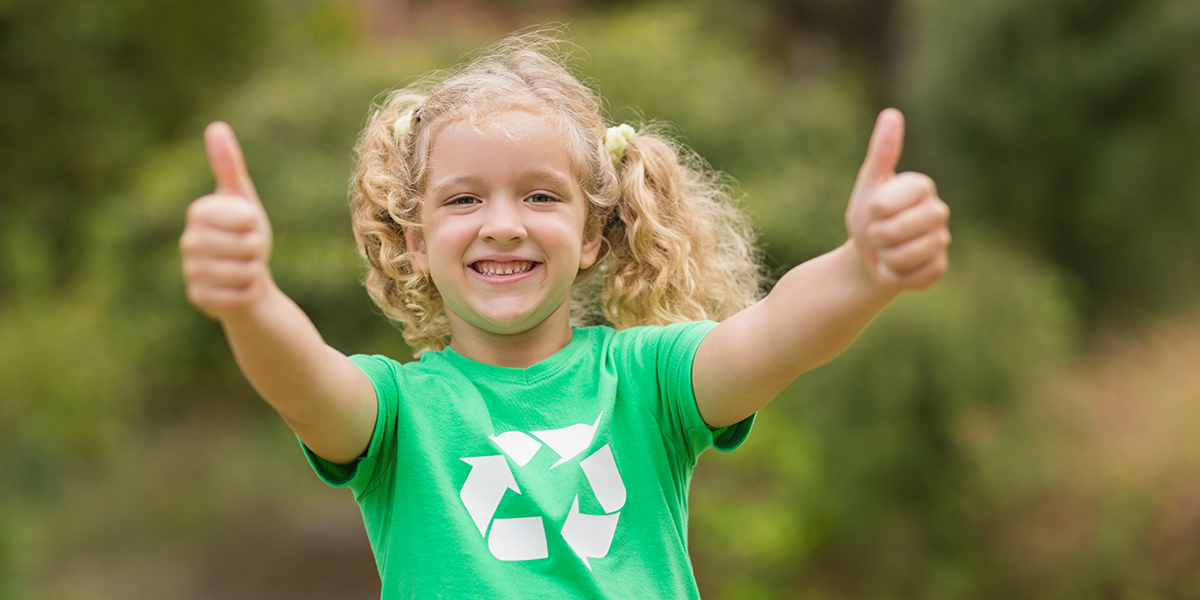 T-shirts have always been a great idea for brand recognition.  But in recent years, manufacturers have upped the ante with amazing custom t-shirt choices that are not only good for the planet, but also so cozy that they're sure to become the favorite –  worn week after week.
How Are Eco Friendly Custom T Shirts Different?
Is eco-friendly just a buzzword, or does it really make a difference?   To give you a better idea of what's possible, let's take a closer look at the District Threads Re-Tee, and the Allmade Tri-Blend T.
District Threads Re-Tee is a very new product that is made from 100% recycled fabric.  You know – the stuff that would end up in a landfill.  The shirts are a 60% cotton/40% polyester blend.  Fabric colors are sorted to create the new shirts, which means that the dyeing step, an extremely water intensive process, is eliminated.  WOW!!  The environmental impact is equivalent to skipping six weeks of showers or shaving 5.87 miles off your commute.  Well done Re-Tee!!
Allmade, a relatively new kid on the block, produces a Tri-Blend T with both a positive environmental impact AND social impact.  What's not to love about that!  The polyester/modal/cotton blend is soft and prints beautifully.  
Allmade has a nifty impact calculator so you can see the environmental and social benefit of your choices.  For example, if you buy 100 Allmade Tri-blend T-shirts instead of 100 traditionally produced 100% Cotton T's, you will save 4000 Gallons of Water, 9 Pounds of Chemicals, 40 Pounds of Crude Oil, and Recycle 600  Water Bottles.  You will also have created 1 day of Living Wage Jobs (in Haiti), and 8 days of Lives Changed.  Sweet!
Planning Your Eco Friendly T Shirt Design
Whether you're creating raving fans for your brand, promoting a cause, appreciating your employees or clients – design is critical.  A good design should fulfill the goal of your project AND make the shirt the go to week after week for the recipient.  Custom T-Shirts should be Fashionable and Functional.  Yes – you can and should have it all! 
Consider print locations, design elements, and colors.  Front, back, sleeve, high upper back, side wraps – think outside the box.  Then again, sometimes less is more.  Know your target audience and design accordingly.  
Material and Style Options
When considering fabric content, think it through.  Who are these shirts for?  100% Polyester Dri-Fit T's would be a good choice for participants in a half marathon.  Concert T's?  You may want to consider a fashion forward 100% cotton.  And Tri-Blend is fast becoming a go to option because of the cozy factor.  It's a great choice for employee and client appreciation programs. 
The other big variable is shirt style.  Men's, women's, youth, v-neck, crew-neck, short sleeve, long sleeve – there are MANY different options!  This is when companion styles become important.  Some projects may incorporate all of these styles but they all need to be the same color.  Others may utilize one style, and offer a color assortment.  At the very least, it's recommended that you offer both men's and women's companion styles.  
Lastly, don't forget to evaluate size ranges.  Some styles go up to XXL, while others offer a wide variety up to 4XL – and a smaller selection up to 6XL.  Tall sizes are a thing too.  It's no fun to be the body type that can't fit in the shirts that everyone else is getting.  Be inclusive!!
Repeat the mantra… know your audience.  Make sure to check all the necessary boxes so you can achieve your goals.  
Eco Friendly T Shirt Printing
The decoration method for your shirts will depend on order quantity, fabric content, and budget.  Working with someone who has knowledge of the full arsenal of decoration methods available will be ever so helpful!
Screenprinting is the most common way to decorate a t-shirt.  It is the go-to in most situations.  
But what if you have a very complex design and you only need 10 shirts?  In that case, Direct to Garment Printing (DTG) might be the way to go.  The limitation here is that DTG printing works best on 100% cotton.  
Maybe you're looking for a special effect such as reflective, rhinestones, or a digital transfer.  It's advantageous for you to understand your options so you can make informed decisions.    
Let Us Help with Your Custom Eco-Friendly T-Shirt Needs!
Eco-friendly t-shirts matter.  Sustainability is becoming an important differentiator for customers.  As a Certified Benefit Corporation, it matters to us as well.  
There are two components to sustainability.  One is materials and production methods and the other is will the end user love it?  Because let's face it – an eco friendly shirt with an ugly design that ends up in a landfill does not qualify as a sustainable option!
We're pretty darn good at guiding our clients with their t-shirt projects and other custom eco friendly apparel needs.  Here's how we can help you.
Book a call: 

We'll get to know your project and help narrow down your options from a million to a small handful.

Review Your Options: 

We'll walk you through our recommendations and come up with a final list of stellar products to move forward with.

Place your order: 

We'll organize all logistics, finalize artwork and oversee production of your promotional products.

Sit Back and Relax: 

We'll take care of everything to ensure a timely and stress-free delivery!
________________________________
1525, Inc. is a full service marketing merchandise company that empowers you to achieve your goals through the strategic use of marketing merchandise.  Let us help you become a Marketing Merchandise Rockstar!   Learn more at 1525.co.