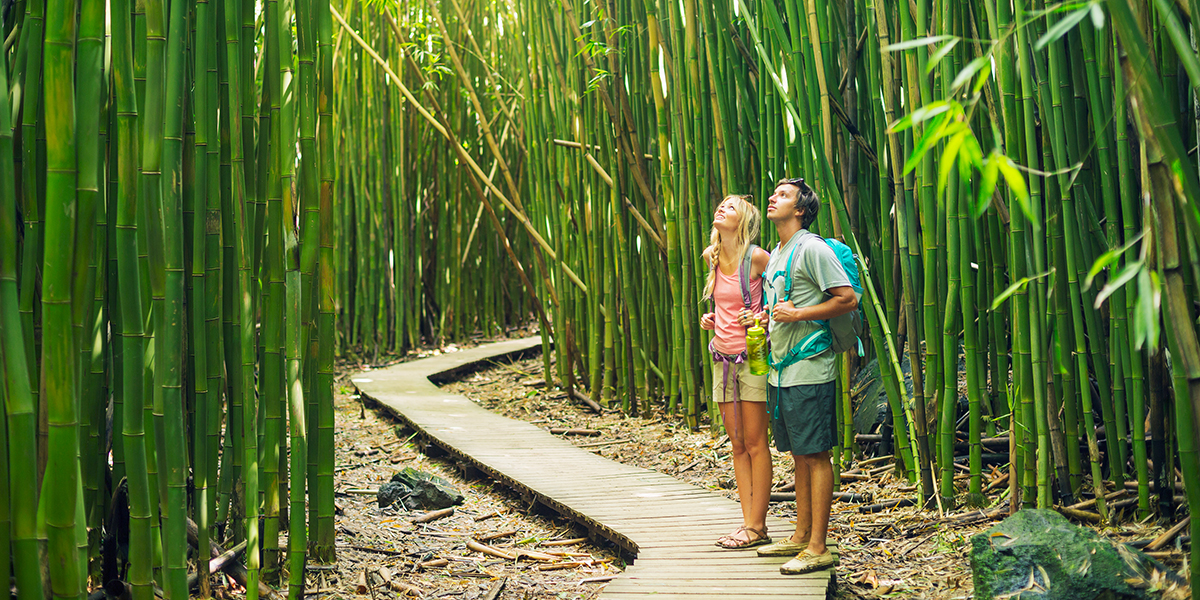 SOCIAL RESPONSIBILITY isn't just a buzzword.  It's a concept that's becoming more and more important to companies and their clients.  Social responsibility has many components, one of which is environmental friendliness.  Dive a little deeper, and we get to sustainability.  What exactly does this mean? 
One definition of sustainable is conserving an ecological balance by avoiding depletion of natural resources.  Bamboo fits the bill.  In fact, it's kind of a miracle product! 
An Introduction to Custom Bamboo Products 
Within the promotional products industry, bamboo has been touted as a sustainable material used in a myriad of products.  As a consumer, do you understand why bamboo falls into this category?  Turns out there are many reasons.  Here are a few.
1.  Fast Growth Rate & Harvest Time:  Bamboo is considered the fasted growing plant on earth.  Some species can grow up to three feet a day!  And then when harvested, new shoots grow from the existing root system.  So no effort in planting new crops – and the potential for soil erosion is greatly minimized.
Bamboo can be harvested in one to five years depending on the variety.  Compare that to some hardwoods that take forty years and you can see the impact this would have.
2.  It Grows Everywhere:  There are over 1000 species of bamboo and it can be found in all regions of the world.  It thrives in harsh conditions from low wetlands to mountainous areas.
3.  Absorbs Greenhouse Gases:  This tidbit is fascinating!  Bamboo sequesters carbon dioxide from the environment.  In fact, when bamboo fibers are used in construction, carbon is stored away for the lifetime of the building.  And the icing on the cake – bamboo produces 35% more oxygen than an equivalent size of trees!
4.  NO CHEMICAL PESTICIDES OR FERTILIZERS:  Bamboo requires zero in terms of agricultural chemicals to grow and thrive.
Bamboo has been used for roads, bridges, scaffolding, buildings, furniture, paper products including toilet paper.  (Check out WhoGivesACrap.org for more info on that.)  It has an antibacterial quality.  In fact, diapers made from bamboo cloth retain their antibacterial properties even after 50 washings!  As far as promotional products go, entering bamboo as the search word in our marketing merch search engine brings up over 7800 products.
Unique Bamboo Products for Branding
Before getting into the super cool product options made with bamboo, there is one other issue regarding sustainability and promotional products that must be addressed. 
Junky products that are not relevant for your target audience – and subsequently end up in the garbage – are NOT sustainable (in our opinion 
).  It is the clever mix of fun and function, along with sustainable materials, that creates a winning merchandise based campaign.
Now… let's check out some nifty fun, functional, relevant, and sustainable marketing merchandise ideas involving bamboo!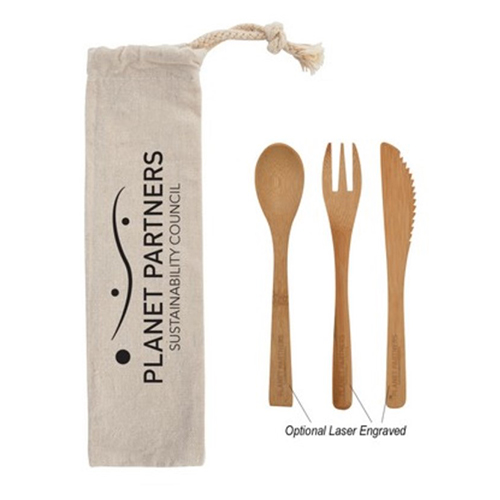 Already using a stainless steel straw?  Up your eco-friendly game with a bamboo utensil set.  Perfect in a purse or back pack.  No more plastic!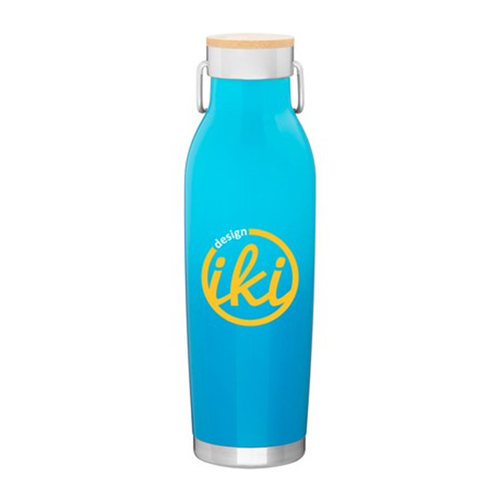 Stainless steel and bamboo make for a winning combo.  You'll get years of use (and message views) with this beautiful water bottle.  Win-win!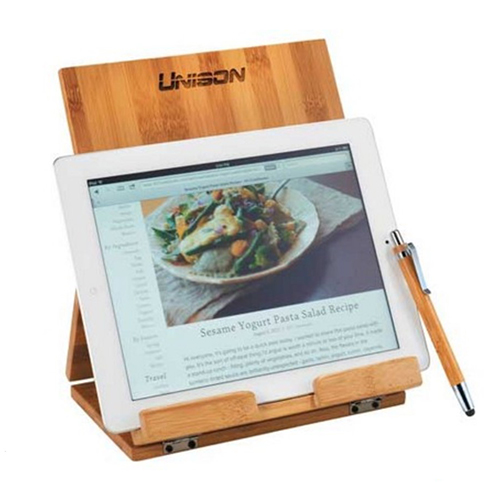 Whether preparing a new dish, or enjoying a cup of coffee while you watch an inspirational video – this makes for a beautiful custom piece.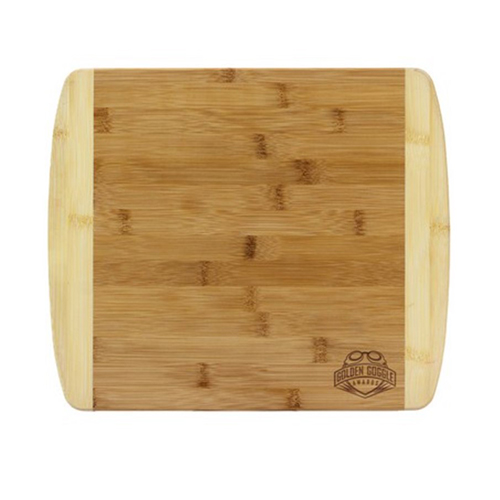 The classic cutting board.  This will never go out of style and is a perfect example of a customized gift that the recipient will use and cherish.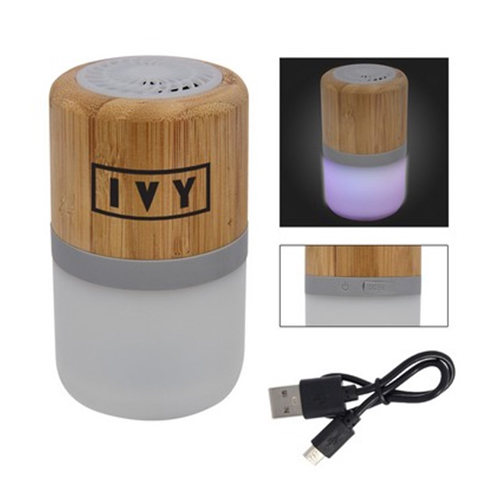 Speaker bottom lights up when in use.  Wireless speaker pairs from 30 feet away.  Definitely fun, functional, and ready to be customized!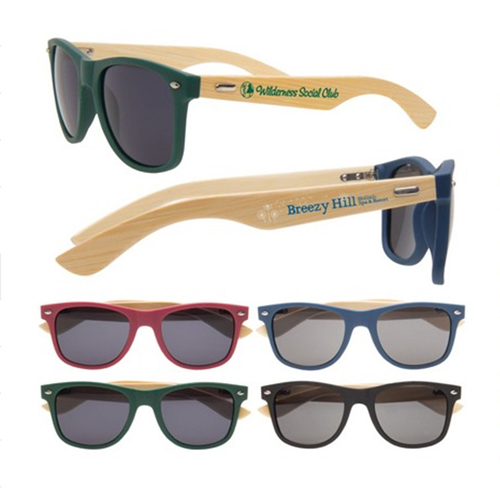 Here's the ultimate in coolness.  The ability to decorate the bamboo arms on these stylish glasses will insure your message is seen.
Personalized Bamboo Products for Your Business
The most common decoration method for bamboo is laser engraving.  The level of detail  that can be achieved is amazing!  Depending on the product, printing is an option as well.  
Another big trend involves individual personalization.  If your project is such that you have individual names for the recipients of these gifts, this may be an option for you to consider.
Interested in Ordering Your Own Bamboo Products?
Sustainability matters.  And as a Certified Benefit Corporation, it matters to us as well.  Your employees, clients, and other associates will appreciate sustainable gifts for a few reasons.  These gifts will resonate with their own core values, and, they will say something very positive about your company – which is exactly what you want a promotional product to do!
Executing promotional product campaigns can be overwhelming.  Here's how we can help. 
Book a call.

We ask you questions to help us better understand the scope of your project, and then create a presentation with a curated list of options to help you achieve your goals.

Review Your Options.

We go through our recommendations together and come up with a final list of sustainable options to move forward with.

Place your order.

We organize the details, finalize artwork, and initiate the production of your order.

Sit Back and Relax.

We take care of everything for you and your thoughtful and sustainable merch is safely delivered to you or your customers.
1525, Inc. is a Full-Service Marketing Merchandise company that empowers you to achieve your goals through the strategic use of marketing merchandise.  Learn more at 1525.co.