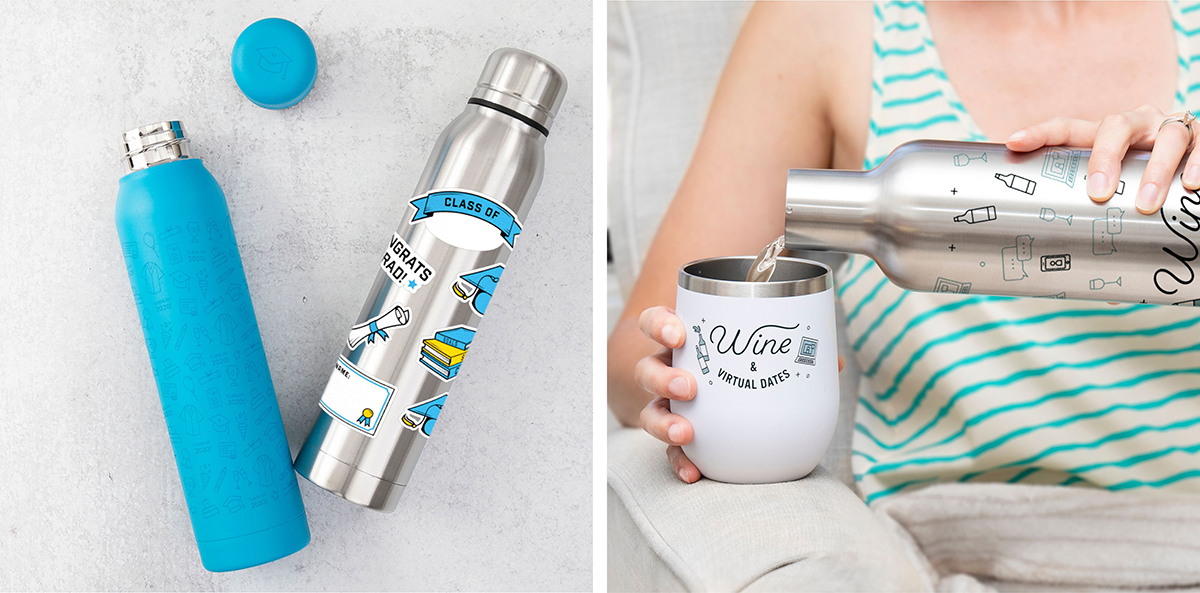 Whether you start your day with coffee, tea, or just plain water – custom stainless steel tumblers make it better!  Better how?  Let me count the ways!
Benefits of Stainless Steel Drinkware
Temperature control:

  Keep your hot drinks hot and your cold drinks cold.  No more chugging your coffee so you can enjoy it at that perfect temperature.  A good double walled stainless steel tumbler can keep hot drinks hot up to 12 hours and cold drinks cold up to 24 hours!

No Toxins:

  Even BPA free plastic leaches toxins into your beverage of choice – especially the hot ones.  Stainless steel is completely toxin free and also resistant to mold and bacteria.

Clean Up is a Breeze:

 Dish soap, water, and a quick scrub is all it takes.  And this leads us into the next benefit.

No Flavor Retention:

  If you use your tumbler for coffee, and then later wash it well and fill it with water, you will not have a coffee aftertaste.

Durability:

  Stainless steel is strong!  You can use your custom stainless steel tumbler for years!

Good for the Planet:

  Custom stainless steel tumblers replace single use options thereby having a positive impact on the environment.  Whether you make your coffee at home, or go by Starbucks for your morning fix – you can still use your own tumbler!  This goes for water as well.

Long Term Savings:

  Imagine a scenario where you drink two cups of coffee a day and also 80 oz. of water a day.  You can make a trip or two to your local coffee shop and also stock up on bottled water – OR – you could fill your 20 oz tumbler with coffee you make at home, and fill two 40 oz stainless steel water bottles with water from your tap or filtered in some manner.  Multiply that by 200 work days.  Boom!  You've got money for your next vacation!
Now that we've reviewed the practical reasons for custom stainless steel tumblers, let's get to the fun and functional part.

An Iconic Powerhouse To Hold Your Coffee and Your Ambition 

Show your style!  Share your message!  Custom Stainless Steel Tumblers and Thermoses make excellent gifts whether for client or employee appreciation, premium trade show giveaways, or as part of an event swag pack.  The options for style, size, color, and decoration methods are vast!!  And as a gift, there is high perceived value. 
Interesting Features of Custom Stainless Steel Tumblers & Thermoses
Sizes & Styles: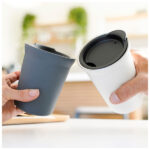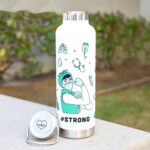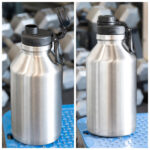 There is something for everyone when considering size and style for your next custom tumbler or thermos project.  Pictured first is an 8 oz 18/8 stainless steel thermal tumbler with copper vacuum insulation and a push on lid.  Perfect for an espresso drink, or perhaps a glass of wine.  In the middle is a classic style in a 24 oz size.  And next to that is a 64 oz. growler.  Yes!  A half gallon for your beverage of choice.  Keep that water (or beer) cold all day!
Lid Options: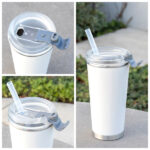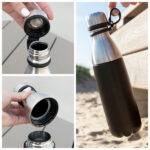 Both thermoses and tumblers come with a variety of lid options.  Screw on, push on, sport top are just a few possibilities.  How about something that will accommodate your stainless steel straw?  Some even have multiple openings within one lid system.  One piece unscrews allowing for a wider opening – perfect for adding ice cubes.  The other opening would be smaller allowing you to drink from it, or pour more precisely.
Decoration Methods:
Custom Colors:
Color matching is a pretty standard option allowing for logos that are consistent with your branding.  You can go one color, several colors, and even full color with today's technology.  Another nifty option is using a wrap print to have the bulk of your custom stainless steel drinkware be a matched color,  and then by reversing out images, utilize the bottle color for the graphic elements.
Laser Engrave:
Always a classy look, laser engraving your design allows the stainless steel to show through.  If your graphic is conducive to being one color, and the detail isn't too fine – this is an excellent choice!
Foil Imprints:
Foil imprints are an exceptional way to make your logo shine.  Available in copper, gold, or platinum – you'll get a shiny metallic effect as opposed to laser engraving which will have a matte finish.
Lid & Handle Imprints:
Looking for something different?  If the style of your custom stainless steel tumbler or thermos can accommodate it, perhaps you should consider a lid or handle print.  Your web address, a hashtag, or some other special graphic or text will stand out and be unique!
Ordering Promotional Stainless Steel Tumblers and Thermoses
Now that we've reviewed the benefits and interesting features of stainless steel tumblers and thermoses, I bet you're thinking – Holy Smokes Batman!!  I need to incorporate something like this into my next merchandise marketing campaign!! 😉   After all, not only are you providing a product that absolutely everyone can use (as we all consume liquids), but you're also helping the planet with an eco-friendly alternative to disposable drinkware.
Ask yourself these four questions to get this process rolling:
What is the goal of my campaign?  How much can I spend?  Is there a firm in-hand date?  And finally, how many stainless tumblers or thermoses do I need?  This information allows all possibilities to be evaluated.
If the myriad of drinkware choices is a bit overwhelming, here's how we can help.
Book a call:  We'll get to know your project and help narrow down your options from a million to a small handful.
Review Your Options: 

We'll walk you through our recommendations and come up with a final list of stellar products to move forward with.

Place your order: 

We'll organize all logistics, finalize artwork and oversee production of your promotional products.

Sit Back and Relax: 

We'll take care of everything to ensure a timely and stress-free delivery!
________________________________
1525, Inc. is a full service marketing merchandise company that empowers you to achieve your goals through the strategic use of marketing merchandise.  Let us help you become a Marketing Merchandise Rockstar!   Learn more at 1525.co.