Portland, OR Trade Show Signage
Trade Show Banners, Tablecloths, and Other Signage Trade Show Banners and Signage
Make Your Booth Pop with Full Sublimation Printing & Signage!
You shouldn't have to be a product expert to execute a campaign that meets your business goals. Nor should you have to waste precious time browsing through thousands of products to find the perfect fit. We happily curate custom tradeshow displays and signage as well as swag, based on your needs, budget and individual brand identity.  First impressions matter when participating in a tradeshow and helping your business stand out is our top priority.  We're passionate about helping businesses find the perfect tradeshow solutions! 
With decades of experience, we know exactly what's needed to execute a successful tradeshow, and we're ready to go the extra mile so you don't have to. We will oversee and manage each step of the process from strategy to delivery to ensure your tradeshow related products are executed to perfection.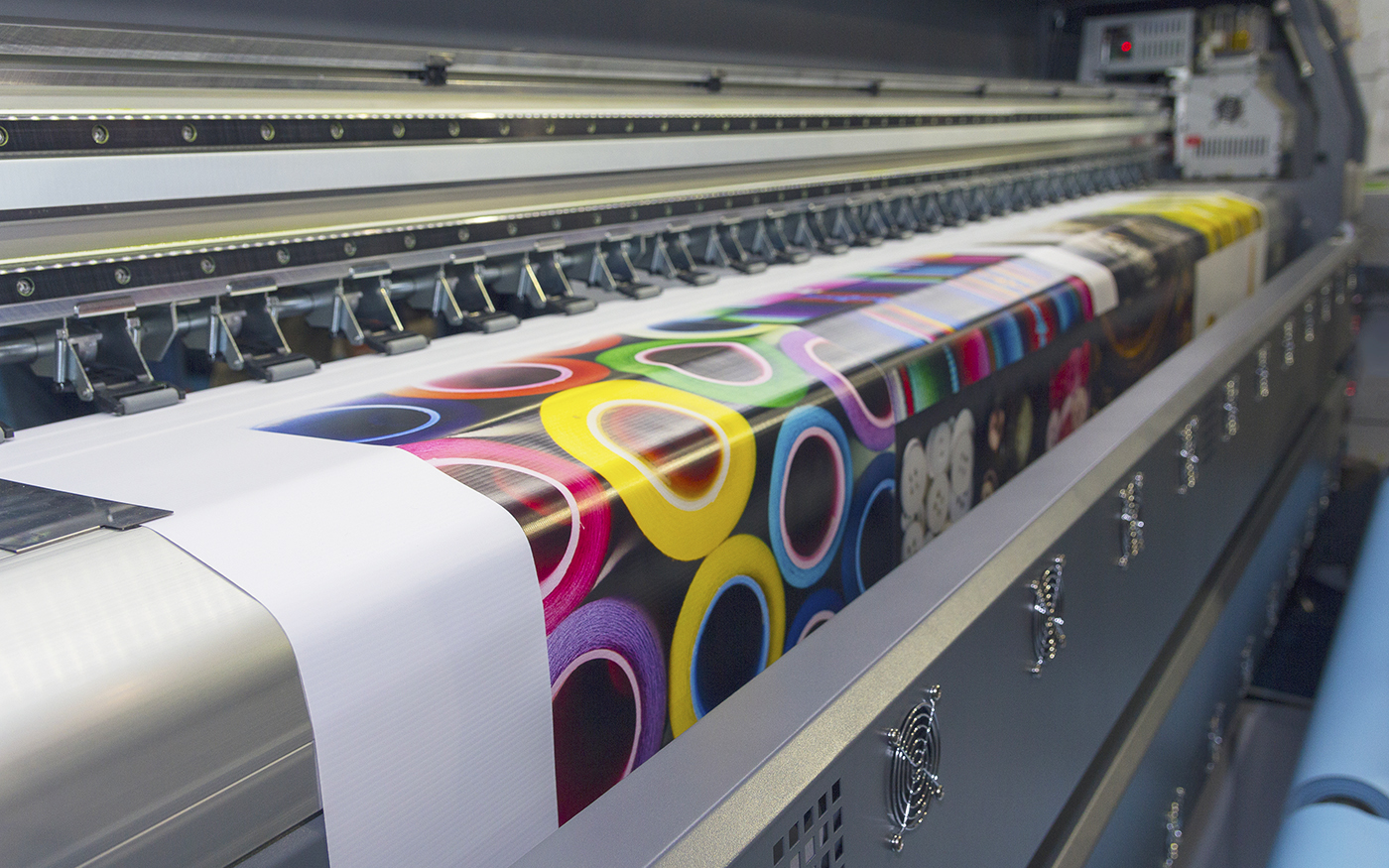 Trade Show Banner Design and Printing
Full Color Graphics will Bring Your Banner Messages to Life
Banners fill many needs.  They are a cost effective way to communicate with your target audience.  With today's technology, you can get beautiful full color images whether ordering one or a hundred.
Wow at your next tradeshow, expo, or open house!  Even a sponsor banner for a little league baseball team is an opportunity to have your message seen.  Make sure you are always on brand.
Don't forget about retractable banners (aka roll-up banners).  Easy to store and great for smaller events and even presentations.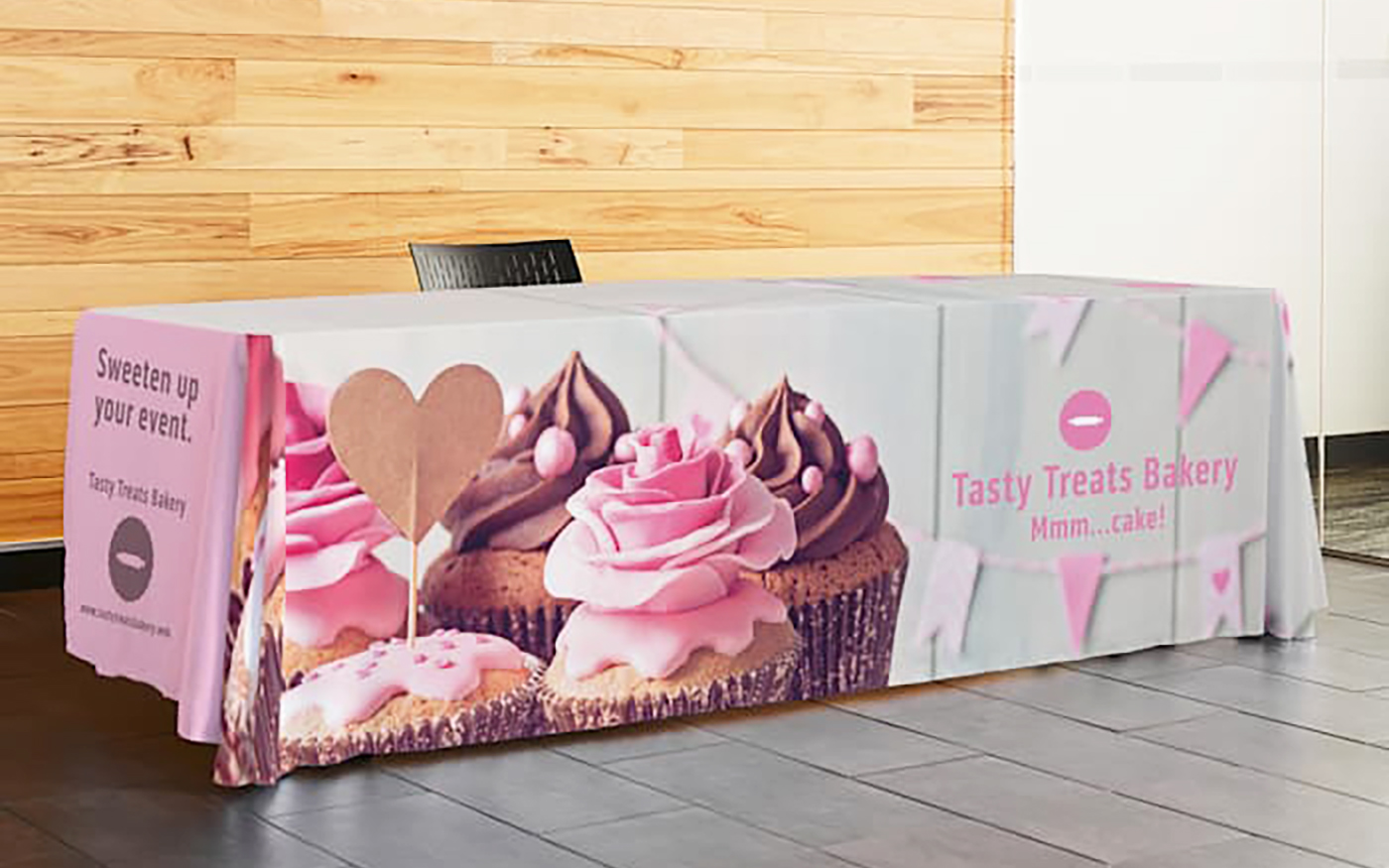 Custom Trade Show Tablecloths with Logo
Get a Trade Show Tablecloth to Turn Heads!
Whether your design is simple or complex, we always recommend full coverage sublimation graphics.  It's cost effective, durable, and gives unlimited design possibility.
You can have 100% coverage in the form of a detailed photo, or something as simple as a solid background color and a one color graphic.  This is where the personality of your company can shine!
Custom trade show tablecloths help you communicate your message consistently.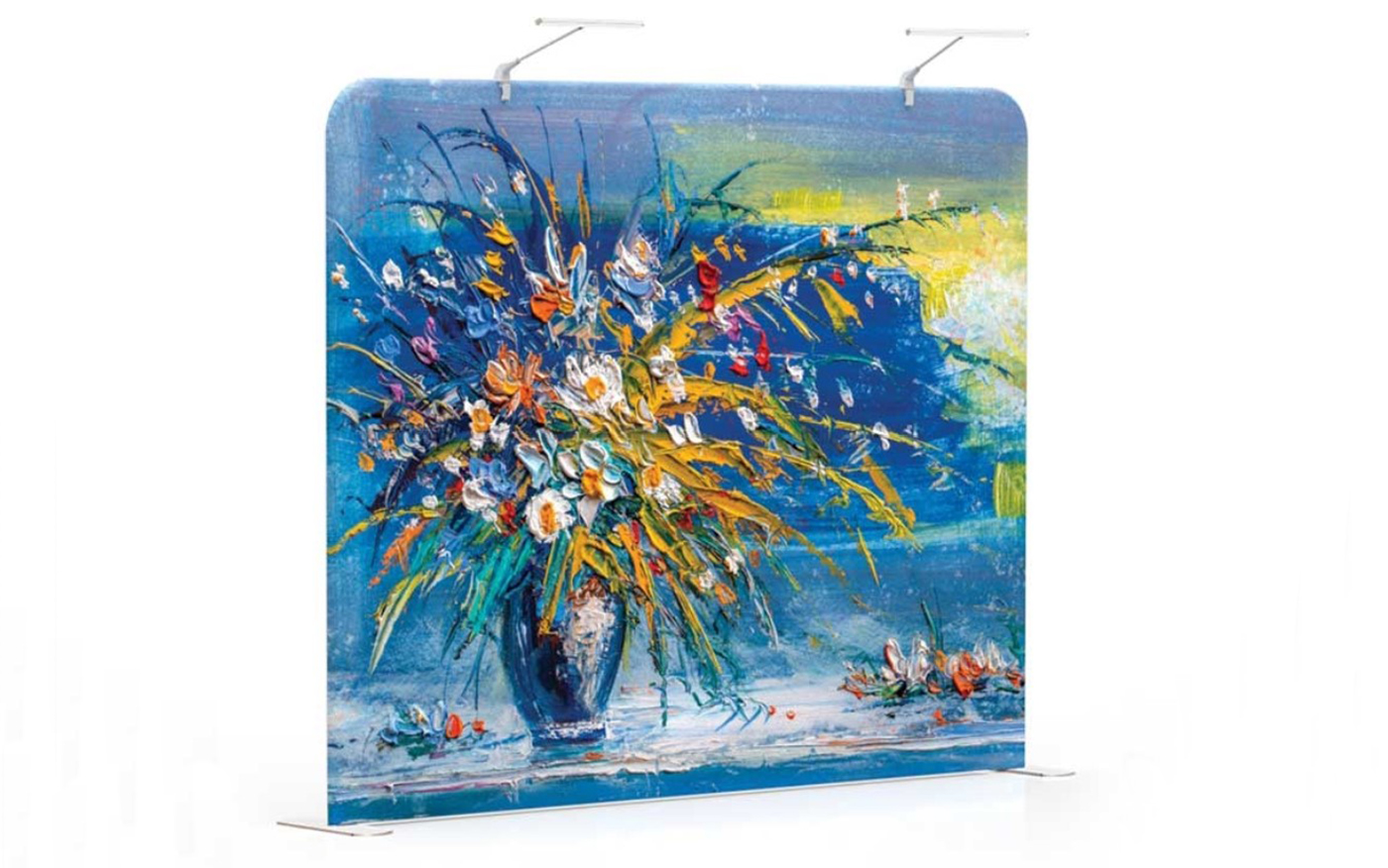 Backdrops Make Your Home Office Look Professional for Zoom Calls
Custom backdrops are not just for trade shows!  A custom backdrop is just the ticket if you need a more professional look during your work from home video meetings.
Do you have a youtube channel?  A backdrop is a nice touch during interviews.  Double sided options allow for different looks as needed.  It can be a piece of art on one side, and your branded background on the other.
The versatile backdrop is also great for use as a room divider.
Again, the full color capability allows for the perfect look.  There is never an excuse to not be on brand.
More Trade Show Printing & Design Ideas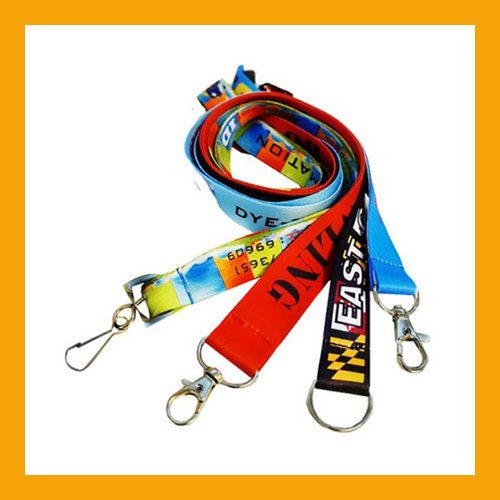 Trade Show Lanyards
Custom branded lanyards are great for a tradeshow badge and still useful after the event is over.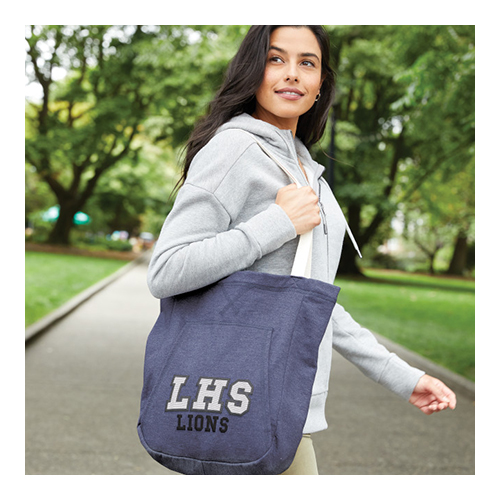 Trade Show Tote Bags
Tradeshow totes are perfect for attendees to collect information and swag.  They'll be used long after the show is over.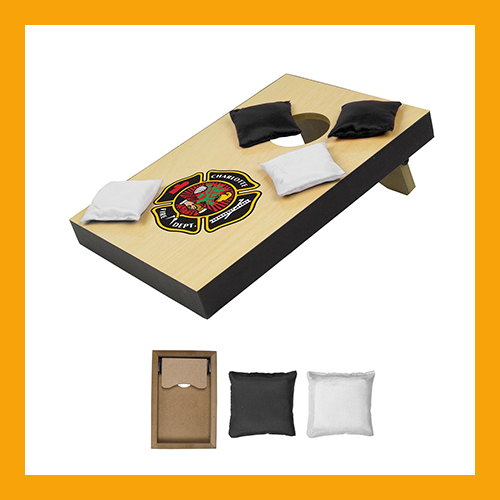 Trade Show Games
An Interactive activity is a perfect way to engage your tradeshow attendees.  Cornhole anyone?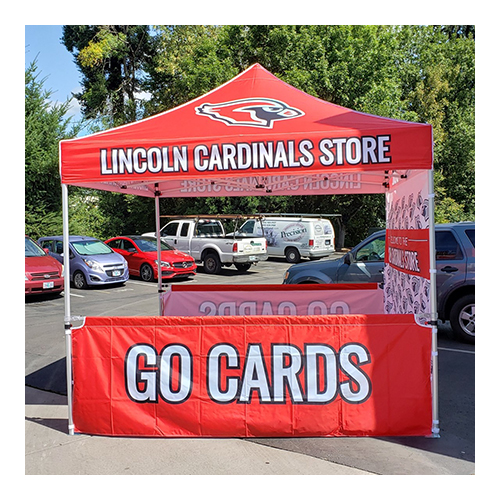 Trade Show Tents
Are you ready for your outdoor events?  We've got you covered.  (pun intended) 
Get Ready to Turn Some Heads!
Go From Vision to Successful Order in 4 Easy Steps

Book a Call
We'll get to know your project and help narrow down your options from a million to a small handful

Review Your Options
We'll walk you through our recommendations and come up with a final list of stellar products to move forward with.

Place Your Order
We'll organize all logistics, finalize artwork, and oversee production of your promotional products.

Sit Back and Relax
We'll take care of everything to ensure a timely and stress-free delivery!
Our Favorite Trade Show Products
Are you ready for your trade show?  Let us help you customize everything you will need to be successful.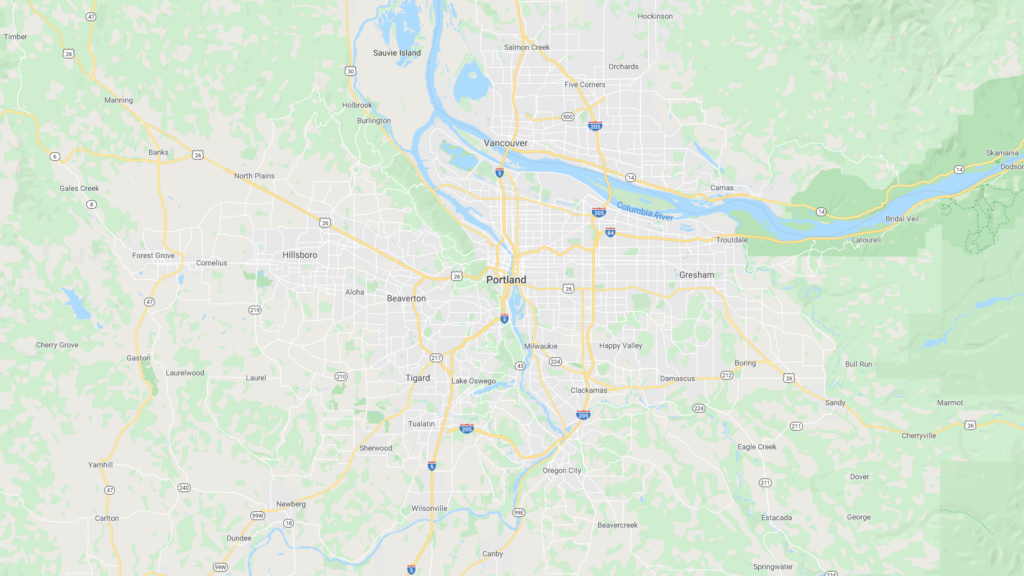 Though we have clients all over the United States, we're particularly proud to serve our local Oregon communities. We love helping other local businesses and neighbors thrive! These local communities include but are not limited to:
Portland, OR
Beaverton, OR
Tigard, OR
Vancouver, WA
Seattle, WA
Las Vegas, NV
Los Angeles, CA
Dallas, TX
New York, NY
Chicago, IL
Miami, FL