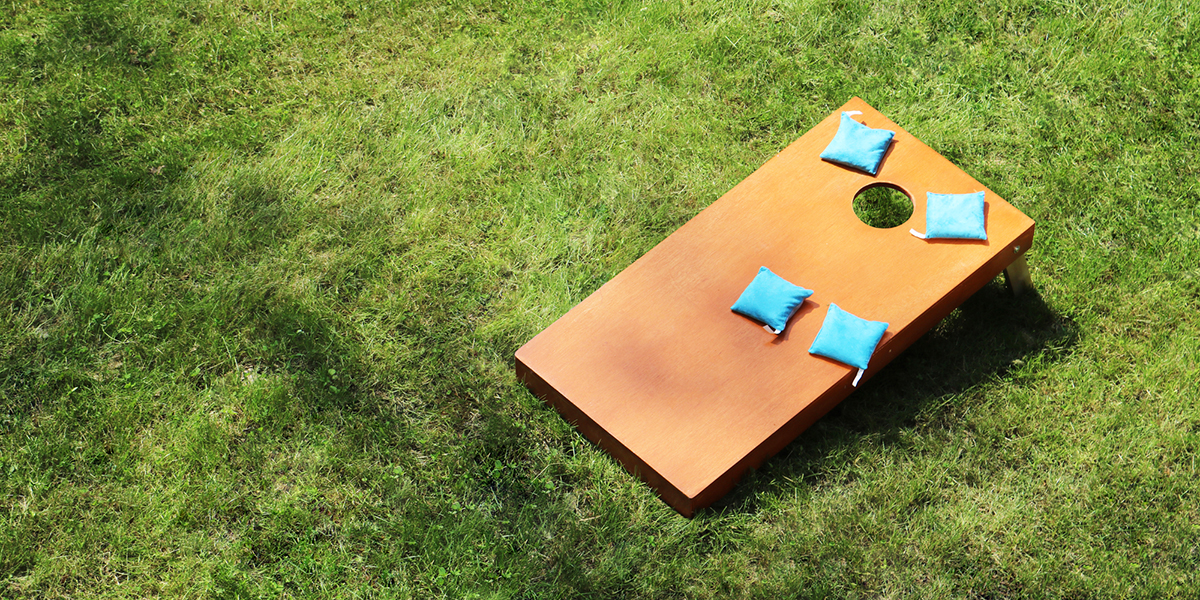 Why does your business need a Custom Cornhole Game? 
I think that we can all agree that happy employees are productive employees.  And one way to increase employee happiness is through workplace fun.  It turns out that workplace fun has been linked to enhanced motivation, increased productivity, improved task performance, reduced stress, AND higher job satisfaction.  What's not to like about that! 
There are a myriad of options when you think of adding workplace fun to your biz, but for today let's focus on Cornhole.  

Reasons Why Cornhole Makes Sense for Company Fun
While perhaps not the obvious choice, it turns out that Cornhole really DOES make sense for company fun!
It's portable:

  Whether on work premises, or a park for a company picnic, your handy dandy cornhole game can make the trip.  

It's inclusive:

  Most people will be able to participate.  If you can toss a corn bag 30 feet, you're good to go.  Novice or fierce competitor – cornhole offers something for everyone.

It's safe:

  Unlike horse shoes or lawn darts, hitting someone with a tossed corn bag (accidentally of course) is not likely to cause injury.

Easy set up:

  Two cornhole platforms and eight corn bags and space to set up.  Easy-peasy!

Branding:  Keep your branding front and center.  Associate your brand with fun!

Workplace Happiness:  Worth mentioning again!
The Ins and Outs of the Game of Cornhole
If you want to go regulation, your cornhole platforms will be two feet by four feet with at least eight corn bags.  For the serious competitors, check out the ACO – American Cornhole Organization.  Rules of the game are as follows: 
Cornhole is typically played between two teams.  Teams are usually one or two people.  
The object of the game is to be first to score 21 points.
When a player tosses a corn bag towards the platform, there are one of three outcomes:
Cornhole:  The corn bag passes through the hole in the platform.  A "cornhole" is worth three points.

Woody:  The corn bag lands on top of the platform.  "Woodies" are worth one point.

Foul:  The corn bag misses the platform.  "Fouls" are worth zero points.
Keeping Score: 
The approved method of scoring according to the ACO is cancellation scoring.  This means that one team will receive points per round or frame.  
For example, if the red team has a cornhole (3 pts), and two woodies (1 pt each) – their total is five.  The blue team has two fouls (0 pts) and one woody (1 pt) for a total of 1.  For that round the red team has four points – the difference between the two scores. 
Now that you see the benefit of workplace fun, and how easy it is to play cornhole, let's talk about customization.

Designing Custom Cornhole Boards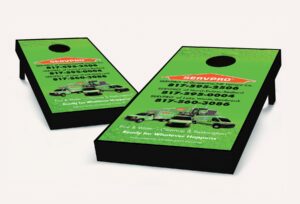 With today's technology, a full coverage full color graphic is the way to go.  The most effective way to achieve this is via a large decal applied to the top of the Regulation Sized Cornhole Board. Allowing for the 6" diameter hole, that gives you a nice large space for your brand and message.
A vector art file is ideal, but a raster image at a high resolution (300dpi) to size will also work.  For clarification on vector vs. raster art, see What is Vector At and WHY should I care?
Designs can be very creative whether detailed or more simplistic graphics are utilized.

Cornhole Game Customization Options

Beyond decoration of the board, you may opt to also logo the corn bags.  Another pretty nifty option is to go with a desktop sized game of cornhole.  This is a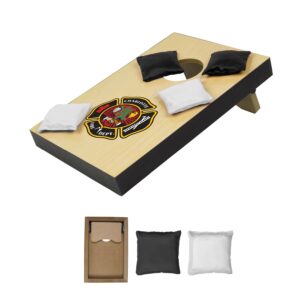 great idea if you're looking for a little downtime while still in the office.  How about a lunchtime tourney?  It's also a great idea for employee or client appreciation gifts.  No batteries, durable, and again something that anyone can enjoy.   

More Branding Ideas to Go With Your Personalized Cornhole Boards
Are you holding an event?  Maybe you've got a company picnic planned with a Cornhole Tournament as the main event.  Besides your cool custom Cornhole game, maybe you can set up a tournament logo.  Here are 10 Fun Ideas to go with your Cornhole Boards.
 An official Tournament T-Shirt
 Embroidered Trucker Cap
 Snazzy Stainless Steel Tumbler
 Personalized Beach Chair
 Personalized Beach Towel
 Can Coolers for your cold beverages.
 Lip Balm
 Custom Tin of Tasty Mints
 Cinch Bags to hold all the cool swag
Ordering Custom Cornhole Boards
As you can imagine, the possibilities are almost endless when thinking about workplace fun.  Even within the category of Cornhole games there are many options.  But you're busy!  Researching Cornhole game options is not how you want to spend your precious time.
Let Us Help!
Book a call.

  We ask you questions to help us better understand the scope of your project, and then create a presentation with a curated list of options to help you achieve your goals.

Review Your Options.

  We go through our recommendations together and come up with a final list of options to move forward with.

Place your order.

  We organize the details, finalize artwork, and initiate the production of your order.

Sit Back and Relax.

  We take care of everything for you and your shirts are safely delivered to you or your customers.
1525, Inc. is a Full-Service Marketing Merchandise company that empowers you to achieve your goals through the strategic use of marketing merchandise.  Learn more at 1525.co.