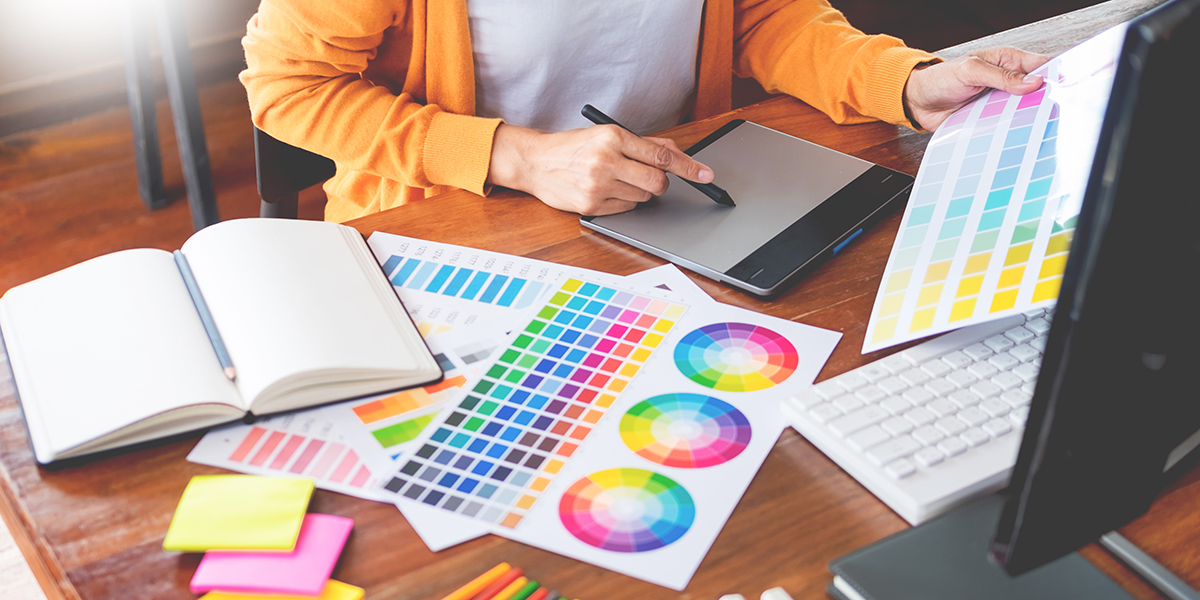 "You never get a second chance to make a first impression".
Trade Shows are all about making a good first impression.  Whether you're looking for new clients, new employees, or strategic partnerships – job number one is to get bodies to your booth.  To achieve this, your branding, messaging, and overall vibe need to be on point.
One of the most visible components of a trade show display is the tablecloth.  So let's talk more about that.
Options to Consider When You Order a Custom Trade Show Tablecloth
Size:
Trade show tables are typically six feet or eight feet wide, and tablecloths usually hang to the floor.  If your budget only allows for one size, our recommendation is to go with the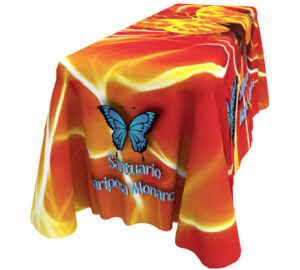 six foot version.  On an eight foot table you will have sides that are a foot off the ground, but we believe this is preferable to having an extra foot of cloth per side pooling on the ground in the reverse scenario.  This could be a tripping hazard.  Custom sizes are available as well.
Style:
The flat rectangle is probably the most common.  It's flexible if needed for other table sizes, and easy to store.  It's also the most cost effective.
Another option to consider is a fitted tablecloth.  While it won't give you the flexibility of fitting on multiple table sizes, it's got a tidy sleek look to  it.  One style of fitted tablecloth fits over your table like a box lid.  It has sewn seams defining the top and four sides.  The ultra fitted version pulls snugly over the table hugging down to the table legs.
Runners are nice particularly if you have different messaging for different events.  A runner is a rectangular piece of fabric  that hangs over the middle of the table.  You might opt for a generic tablecloth that reflects your branding, and order different runners to coordinate depending on the purpose.
Decorating  your Custom Trade Show Tablecloth
Now that you've picked a size and style, the real fun begins!  Although there are a few ways you can decorate – you get the most flexibility with sublimation.  And, it checks ALL the boxes.  It's cost effective, durable, and gives unlimited design possibility.
Here's the skinny on sublimation.  Pay attention – it could be a Jeopardy question later. 😉  
Sublimation is a chemical process where a solid turns into a gas without going through a liquid stage.  Dye Sublimation is the method of applying an image to specially coated ceramics,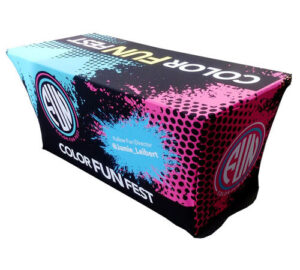 metals, and polyester cloth, using three main ingredients: sublimation ink, heat and pressure.  When the heat and pressure are applied, the dye on the transfer medium sublimates, or becomes a gas, and is then absorbed into the polyester itself; the print becomes a part of the fabric. It doesn't fade easily, wear, or have any texture or weight.
How cool is that!  You can have 100% coverage in the form of a detailed photo, or something as simple as a solid background with a one color image.  This is where the personality of your company can shine!
Design Tips For your Custom Trade Show Tablecloth
Imagine the nine quadrants of your tablecloth as three rows up and three columns across.  The middle quadrant is the table top, and the quadrant below is your primary messaging area.  This is what trade show attendees will see as they walk the floor.
Design elements should not overshadow the message which might be as simple as a company name, website address and phone number.  Your company type and personality will determine the graphic components that compliment the message.
In most cases, you will have brochures and trade show swag on the top of your table.  Again, if the graphic is too busy, these things get lost and can create a cluttered appearance.  If you're not going to have much on top of the table, you'll have a little more leeway.
Another tip is to create messaging on the backside of your tablecloth.  You may mirror the front or do something completely different.  This allows you to turn the tablecloth to bring the message you want to the front.  It's almost like getting two tablecloths in one without paying a penny more.  
And don't forget about the sides.  It's another area that is often not visible – but  sometimes it is!  A big graphic element on the side is a nice touch.

Round Up Your Trade Show Event & Booth Details

What else could you use for your trade show experience?  Roll up banners are a perfect compliment to a custom trade show tablecloth.  They are also produced using a full color decoration method, so ordering together creates a very cohesive look.
Are you giving anything away?  Swag is an effective way to keep your name in front of prospects, potential new hires, and strategic partners – once they've left the trade show.  If you're wondering about how to select tradeshow promos, we have good ideas about that as well.
Turn Heads with Your Custom Trade Show Tablecloth at Your Next Show

Exhibiting at a trade show is a big commitment.  It's a financial commitment made up of both dollars and time.  Finish the job by making sure you're projecting the messaging necessary to achieve your desired result.
You may ask, "How do I do that?"  
This is where we come in.  You have a budget, and a desired outcome.   We'll help you with the plan.
Let 1525 Get the Job Done Right!
1. Book a Call:  We'll get to know your project and help narrow down your options from a million to a small handful.
2. Review Your Options:  We'll walk you through our recommendations and come up with a final list of stellar products to move forward with.
3. Place Your Order:  We'll organize all logistics, finalize artwork and oversee production of your promotional products.
4. Sit Back and Relax:  We'll take care of everything to ensure a timely and stress-free delivery!
________________________________
1525, Inc. is a full service marketing merchandise company that empowers you to achieve your goals through the strategic use of marketing merchandise.  Let us help you become a Marketing Merchandise Rockstar!   Learn more at 1525.co.