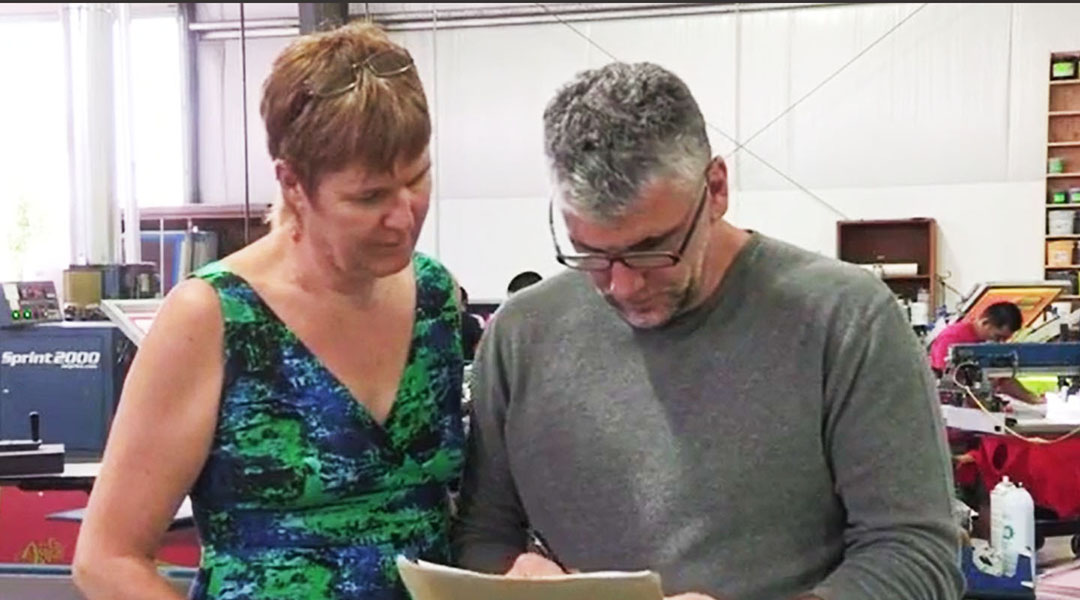 Something really wonderful happened this year!
After 5 years in business, we found the clarity needed to create a brand consistent with our purpose.  What we do hasn't changed.  What IS different is our ability to communicate what we do, and who we are.  It's more than a logo, or a color combination.  It's a corporate culture and a mindset.  The synergy that comes from blending all of these elements is powerful!
Two events were the catalyst for this monumental shift. 
The first event was my attendance of a tradeshow in January 2016.  Bill went every year to find out about the newest products and processes that our industry has to offer.  And this year, I decided that I wanted to see all of this as well.  In addition to walking the showroom floor, I also signed up for several educational seminars.  A change in scenery and interesting speakers combined to help me clarify our culture and mindset.  Inspired, I came home from the tradeshow and revised our logo for the fifth time.  FINALLY!  It felt right!  I was ready to put my money where my mouth is and promote my own promotional products company with… promotional products.  (I'll be sharing more about this in future posts.)  
Change doesn't happen overnight, but this next experience was the one that put this whole project at the tippy top of my priority list!
I was at a networking function and a guest asked me what I did.  I replied that I was a promotional products distributor to which he replied… "Oh!  You sell CPS".  CPS??  I asked him what that was.  He smiled and told me that CPS was – Cheap. Plastic. Shit. 
OBVIOUSLY, I was doing a very poor job of communicating to others exactly what we do!  
At first I was a little ticked off with the whole encounter, but the reality is that this person did me a huge favor. He said out loud what I'm sure other people thought.  I was now a woman on a mission!  We are and always have been SO MUCH MORE than a company that sells you stuff with your logo on it.  I know this, so the question became – how would I communicate this to others??
I played with our tagline and came up with a shorter version and a longer version.  The shorter version is Creative Promotional Solutions.  The irony was not lost on me that I had created a phrase whose initials were also C.P.S.  I fought it at first, trying all sorts of other combinations of words, but to no avail.  At the networking function where I first heard the term CPS – I truly felt as though the gauntlet had been thrown.  The more I thought about it, the idea of rebranding CPS not only seemed like a good idea, but almost as though it were meant to be!
As I continued to explore my thoughts, the tagline morphed into Creative Promotional Solutions that Honor Your Identity.  Yes a mouthful, but really spot on.
Many aspects of how we present ourselves to the world are being reviewed and updated as needed.  A work in process, but it feels wonderful with this newfound clarity.  The biggest project was completely revamping our website.  I chose to do this myself.  I defined the goals for the site and got to work.  The goals included:
Creating a responsive site.

Highlighting the myriad of different products and processes that we can handle.

Showcasing our knowledge of production processes, and why this is important for our clients. 

Allowing prospects and clients to surf our search engine for products if they feel so inclined.

Making it clear that we're willing to do the research for you.

Making it clear that we have our clients best interest at heart.  Truly!
The site went live on July 19, 2016.  I consider it a dynamic entity and will continue to add and update as needed.  I would so appreciate it if you could stop by and take a look.  Thanks!!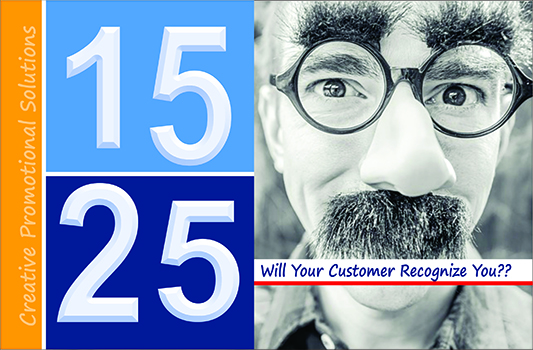 We created this rack card at the beginning of this process, and it became the inspiration all that followed – including the website.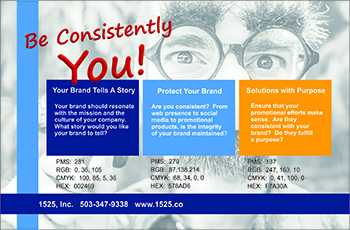 This side of the card gets into the meat of our message.  Your Brand Tells a Story.  Protect your Brand.  Solutions with Purpose.  Plus it's a nifty reference for our colors in various formats. 🙂