Tradeshow Signage & Display
How will you stand out in the crowd??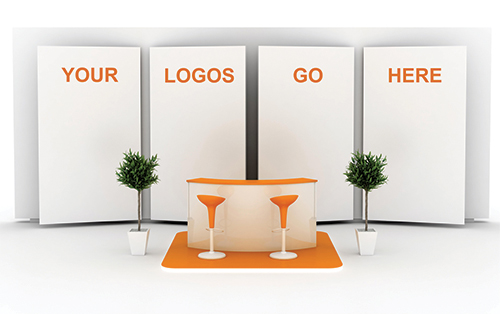 Tradeshow time?  We can help!
From signage to an entire booth, let us help make sure that your branding is consistent.  Hanging banners, roll-up banners, tablecloths, table tents, lightbox displays, pop-up tents, flags, additional signage… you get the idea. 😀  
Whether it's confidence level, creativity, a general sense that you have your act together – your display communicates the image of your company.  And don't forget about booth staff.  Make sure they are outfitted consistently with your branding as well.
Now that your display is taken care of, what about tradeshow give-aways?
There are basically two things that a successful tradeshow promotion should accomplish
It should help bring traffic to your booth.
Once your prospect takes it home, it should serve as a reminder of what you have to offer, and how to contact you.
Variables to Consider When Selecting Promotional Products
Budget
Think about what you have to spend per item. Keep in mind the quality for the price point you are trying to hit. If you have $2.00 per item to spend, get the highest quality product for that money rather than a cheap version of a higher end item.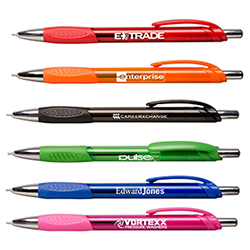 Function / Aesthetics
Get something that won't be thrown away after the show. It would be very disappointing to leave the show and find your give away item in the trash! Ask yourself this question. Would YOU keep the item? Maybe touch bases with a few existing customers for feedback.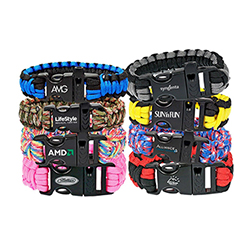 Identifier
Make sure your company name and contact information is on your promo item. If you can include your logo or tagline, that's great. If not, then as a minimum you will need your company name and a phone number or a website address on it. Present your information in a pleasing way. Remember – you want your prospect to keep it!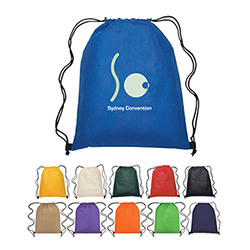 Premium Items
It may make sense to have two levels of give away items available. If you pick a more expensive "premium" product, only give it to your qualified prospects. You can ask the prospect, "Would you be interested in our product/service? I just need to ask you a few questions." If the prospect turns out to be "not qualified", thank them for their time and give them a pen or other low cost item. They'll leave with a practical gift, and may perhaps refer you to a friend.  If the prospect IS qualified – then the premium product can help you stand out, and make a better connection with that person.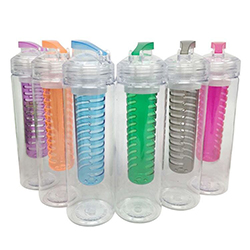 Because promotional products are useful and appreciated by the recipients, they are retained and used – repeating the imprinted message many times without added cost.
Percentage of people having a favorable impression of an advertiser after receiving a promotional product.

59%

59%

Percentage surveyed that could recall the name of the advertiser on a promo product received in the past 12 months.

88%

88%

Percentage of consumers that generally keep the product for more than a year.

47%

47%

Percentage who use promotional products once a week or more often.

53%

53%
** Data provided by the PPAI 2013 Promotional Products Awareness and Usage Study.
Frequently Asked Questions
Do I have to provide my own artwork?
1525 is a full service company complete with a graphic arts department. You can provide the artwork, or maybe you just have a general idea what you're looking for and need help conceptualizing your design. Either way works for us!
If you are providing your own artwork, please review the 1525 Art Guidelines
Are there order quantity minimums?
Different manufacturers have different order minimum requirements.  If you are using the search engine, the minimums are stated in the product detail.  If the minimum is more than you need there are a couple options for you.  Both involve contacting us with the item you've found if you've done a product search, or just a general description of what you're looking for along with quantity and if possible, your budget.
Option 1:  We will refine the search.  Often there is more than one manufacturer for the same or similar products.  It is possible that there is a lower minimum order quantity available somewhere else.
Option 2:  Below minimum surcharge.  Many vendors will produce below minimum for an extra flat fee charge.  You can decide it this makes sense for your particular needs.
Do you have samples of products?
We are happy to order samples on an as needed basis.  🙂 Due to the vast selection of styles, sizes, and colors for different products, it isn't practical to inventory samples.  That being said, we have built up a small selection of samples as we order for ongoing requirements.  Most can be obtained within a few days.  
What is turn around time?
If you are using our product search engine, each item will list a normal lead time for production.  You must also take into account shipping time.  Just as with the order minimums, different manufacturers can have different lead times.  Don't forget about shipping time.
If we're doing the research for you, we take all of this into account when you define your parameters.  If quick turn is an issue, we can  check for vendors that offer rush production at no extra charge.  Yes, it is even possible to get some products in a day – for your emergency situations!
Can I use your search engine to place my order?
Yes!  You can submit your cart as a quote request, or as an order.  If you submit an order, you will be prompted for credit card information.  Your card will be "authorized" at that time.  Your card isn't actually billed until we OK the transaction.
In most cases, the shopping cart does not take into account additional charges such as set ups and shipping.  When we receive your shopping cart we verify all of the charges including a shipping quote – and submit that information to you for final approval.
Example:  We had a customer from a remote area in Alaska submit a shopping cart with 7 different products.  They prefer all shipments be sent via US Mail – as that service has priority in that area.  They gave art instructions and attached art files for each item.
We reviewed the requirements and checked to see if we could find any better deals for them.  Additionally, we verified shipping and found that some vendors did not offer US Mail as a shipping option.  In that case, product shipped to us, and we forwarded to the client. 
In this example, we were able to find what the customer wanted and minimize shipping expenses – which in this case were considerable. 
"Selling is communication.  True selling is caring, listening, solving problems, and serving your fellow human being."     ~Zig Ziglar