It's human nature to want to feel like you're part of something bigger… that you belong.
Whether, on the smaller scale of being on the Chess Team, or a member of the Marching Band, or on the larger scale of being part of the Class of 2019, or even bigger yet, a Bronco (or whatever YOUR mascot is) – Spirit Wear and other products can help facilitate this feeling!
Figure out your budget and your goal, and we'll help you find solutions for your school and club needs.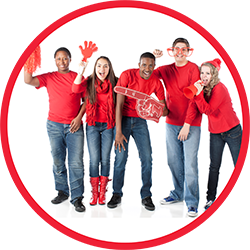 Who?
Booster Clubs

School Leadership Programs

Student Stores

Athletic Teams

Other Clubs on Campus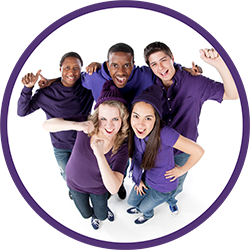 Why?
Increase School Spirit

Promote Participation in Extra-curricular Activities

Fundraiser

Promote Events

Performance Incentives – Academic and Other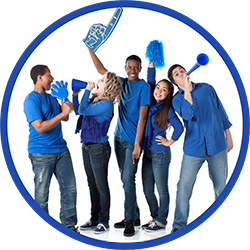 How?
You can do the research, call us to do it, or both.  Our website is set up to accommodate both extremes and the in-between.
To the right (or below on mobile) are three toggles. 
The first toggle is "Start a Project"  – if you'd like us to do the research and report back to you. 

The second toggle includes links to our favorite apparel and accessories source, and our Advanced Search page for our product search engine. 

Your organization may also be a good candidate for a Web Store.  🙂   There's a toggle about that too.
DIY Research
Click HERE for a general apparel catalog – includes dress shirts, polo shirts, jackets, t-shirts, etc.  Hint:  Type in your school color and see what comes up!  Ex:  Royal, Red, Purple
Click HERE for our advanced product search engine.  Type what you're looking for in KEY WORD and begin search.  For example:  Stadium Seats, Lanyards, Socks, Foam Finger, Academic Journal – you get the idea!
Click HERE to get back to the Apparel & Accessories page and explore decoration methods.
Web Store
Are you the Spirit Wear "volunteer"?  Compiling orders, collecting money, sorting orders – it's time consuming work!  Here is a great alternative.  You approve items offered in the store, advertise it to the kids, and distribute completed orders that are already packaged by player with paperwork included.  This can even be set up as a fundraiser!
Click HERE for more information
Frequently Asked Questions
Do I have to provide artwork?
1525 is a full service company complete with a graphic arts department. You can provide the artwork, or maybe you just have a general idea what you're looking for and need help conceptualizing your design. Either way works for us!
If you are providing your own artwork, please review the 1525 Art Guidelines
Do you have a minimum order?
We DO NOT have  a quantity order minimum requirement.  You can order one!  Of course there are price breaks as you hit certain quantities so you're free to make the decision that makes the most sense for your project.  In fact, if you request a quote and you're close to the next quantity price break, we'll be sure to let you know so you can make an informed decision.
We do have a minimum order charge of $25.00.
Do you have samples?
We are happy to order samples on an as needed basis.  Due to the vast selection of styles, sizes, and colors – it's not practical to inventory samples.  
In most cases, we can get them in within a day or two.
What's your turn around time?
Our normal turn-around time for apparel and accessories is 10-12 business days from art approval. We can expedite orders which may incur a rush charge.  This is determined on a case by case basis.
Other products will vary.  We work within your time constraints to come up with options that work with your project in hand date. 
Can I mix and match items for quantity breaks?
Yes! For example, let's say you're placing an order for 72 pieces. They're all getting the same one-color front print. You would like to have red, navy blue, forest green, and white shirts. In addition to that, some will be short sleeve and some long sleeve. You also have two people who have requested a crew neck sweatshirt instead.
All of these items will be priced at the 72 piece price break because they'll be printed in the same run with the same screen set up. In this example, there would also be an ink color change charge ($5.00 per color change), because the dark shirts are getting printed with white ink, and the white shirts will be printed in navy blue.
As a side note – this is a great way to try out a new item without committing to a large quantity!
Can I provide my own garments?
Yes!  We are happy to decorate customer supplied garments. However, if you haven't made the purchase yet – it would be a good idea to get a quote from us.  You may be surprised just how cost effective this can be.
Also, some items that we provide are better suited to being decorated.  For example – jackets that have a decorating pocket allowing for embroidery access.
"Selling is communication.  True selling is caring, listening, solving problems, and serving your fellow human being."     ~Zig Ziglar