Step One:  Choose your Apparel & Accessories
We have access to MANY different brands and styles.  We've provided links to two online catalogs to help you with your search.  It's a huge selection, but in the event you don't find what you are looking for, let us know.  You can email us at , or call 503-347-9338.
The search bar in each catalog is very versatile.  For example, you could type red, and bring up every red item offered.  Pricing will vary depending on quantity and decoration parameters, so the prices listed in these catalogs provide a good ball park idea – and help you understand the pricing of items relative  to each other.  
Brands
Brands:
Port Authority, Port & Company, Sport-Tek, Red House, District, CornerStone, Nike, Nike Limited Edition, OGIO, OGIO Endurance, New Era, The North Face, Eddie Bauer, Carhartt, Red Kap, Bulwark, Alternative Apparel, Bella + Canvas, Hanes, Jerzees, Fruit of the Loom, Anvil, Comfort Colors, American Apparel, Gildan, Rabbit Skins, Russell Outd
Brands
Brands:  A4, Adams, Adidas, All Sport, Alternative, American Apparel, Anvil, Ash City, Augusta, Authentic Pigment, Bag Edge, Bayside, Bella + Canvas, Big Accessories, Carmel Towel Company, Champion, Code Five by LAT, Comfort Colors, Devon & Jones, Dickies, Dri-Duck, Dyenomite, Econscious, Flex Fit, Fruit of the Loom, FUL, Gemline, Harrington, Headsweats, Hook & Tackle, J America, Jerzees, KC Cap, LAT, Liberty Bags, Marmot, New Balance, Occunomix, Rabbit Skins, Robinson Apparel, Russell Athletic, Subivie by LAT, Team 365, Tye-Dye, Yupoong
Step Two:  Select a Decoration Method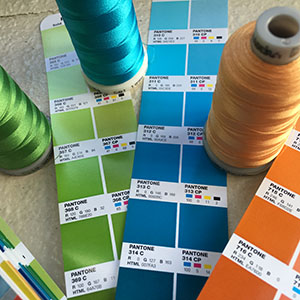 We have been asked, "If I want screen printing, why wouldn't I go directly to a screen printer?"  And the answer is… a screen printer will sell you screen printing!! 
But.  What if that's not REALLY the right process for your particular requirement?  What if DTG printing, or a digital heat transfer makes better sense?  Therein lies our strength.  We are not locked into a particular process, so we consider ALL of the options when evaluating your project.  We have many resources, and can get you what you need, when you need it, while remaining competitive in our pricing. 
Below are different processes for apparel and accessory decoration.  We'll explain what we need for each process, and the variables that affect your quote. 
Frequently Asked Questions
Do I have to provide artwork?
1525 is a full service company complete with a graphic arts department. You can provide the artwork, or maybe you just have a general idea what you're looking for and need help conceptualizing your design. Either way works for us!
If you are providing your own artwork, please review the attached art guidelines. 1525 Art Guidelines
Do you have a minimum order?
We DO NOT have  a quantity order minimum requirement.  You can order one!  Of course there are price breaks as you hit certain quantities so you're free to make the decision that makes the most sense for your project.  In fact, if you request a quote and you're close to the next quantity price break, we'll be sure to let you know so you can make an informed decision.
We do have a minimum order charge of $25.00.
Do you have samples?
We are happy to order samples on an as needed basis.  Due to the vast selection of styles, sizes, and colors – it's not practical to inventory samples.  
In most cases, we can get them in within a day or two.
What's your turn around time?
Our normal turn-around time for apparel and accessories is 10-12 business days from art approval. We can expedite orders which may incur a rush charge.  This is determined on a case by case basis.
Can I mix and match items for quantity breaks?
Yes! For example, let's say you're placing an order for 72 pieces. They're all getting the same one-color front print. You would like to have red, navy blue, forest green, and white shirts. In addition to that, some will be short sleeve and some long sleeve. You also have two people who have requested a crew neck sweatshirt instead.
All of these items will be priced at the 72 piece price break because they'll be printed in the same run with the same screen set up. In this example, there would also be an ink color change charge ($8.00 per color change), because the dark shirts are getting printed with white ink, and the white shirts will be printed in navy blue.
As a side note – this is a great way to try out a new item without committing to a large quantity!
Can I provide my own garments?
Yes!  We are happy to decorate customer supplied garments. However, if you haven't made the purchase yet – it would be a good idea to get a quote from us.  You may be surprised just how cost effective this can be.
Also, some items that we provide are better suited to being decorated.  For example – jackets that have a decorating pocket allowing for embroidery access.